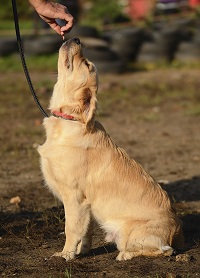 Lockdown due to Covid-19 restrictions hasn't been easy for any of us. If you have introduced a new puppy or older dog into your home during lockdown, the chances are that they haven't had the opportunity to socialise much with other dogs or anything else.
Your new addition can therefore become easily scared or overwhelmed as social restrictions are eased, causing unwanted behaviour.
Russell has created this course to help families to develop their dog's confidence, social skills and obedience ready for attending a beginners dog obedience class.
Telephone 07717 763044 or email knightsbaydogtraining@hotmail.com to book on the course.
Payment
This course is 4-week course £45.00.
You can pay via cheque (made payable to "Knightsbay Dog Training") or via Paypal. Please note that refunds will not be given if you are no longer able to attend your booking.
About this Course
Knightsbay Dog Training Lockdown Socialisation Course in Leicester is designed specifically aimed for lockdown puppies and older dogs who lack socialisation skills.
The course will cover end play, recalls (voice and whistle), heel work and sits to greet. Understanding dogs body language when the dog feels threaten or uneasy with the other dogs in their environment.
Russell only uses positive reinforcement techniques. Appropriate experiences with humans, other animals, environments, noises and everyday occurrences are essential for appropriate puppy behaviour traits to become established.
To see what other people think of these classes and Russell's puppy training and advice, read some his client testimonies.
Note
If your dog suffers with aggression then a one to one consultation will be required before you are allowed to attend the course
We will be testing dogs on the first day of course to see if they respond to the whistle so please wait before purchasing one. If they respond well, you will need an ACME whistle 210.5 or ACME whistle 211.5
You will need normal walking lead ideally 1.5 meter in length.