Four Week Course
The dates for these courses are advertised on the KDT Facebook Page.
There can be up to a maximum of ten puppies in each puppy socialisation class.
Telephone 07717 763044 or email knightsbaydogtraining@hotmail.com to book on the course.
Payment
The cost of this four week course is £50.00 per puppy.
You can pay via cheque (made payable to "Knightsbay Dog Training") or via Paypal. Please note that refunds will not be given if you are no longer able to attend your booking.
Venue
The Knightsbay Dog Training Puppy Socialisation Course is held at:
Sense Valley
Ibstock
Leicestershire
LE67 6NW
About this course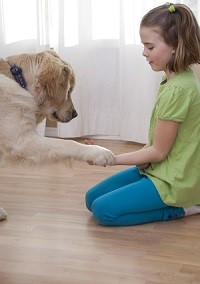 Knightsbay Dog Training Puppy Socialisation Course in Leicester is designed to educate puppies and dog owners the importance of socialisation within the early period of puppy's development (3-16 weeks).
Russell only uses positive reinforcement techniques. Appropriate experiences with humans, other animals, environments, noises and everyday occurrences are essential for appropriate puppy behaviour traits to become established.
He accepts any puppies of any breed but they must be fully vaccinated and younger than 20 weeks. To see what other people think of these classes and Russell's puppy training and advice, read some his client testimonies.
Week 1
The lesson will be a relaxed environment where we will run through what the course will entail with a little more in depth talk to explain how to deal with the main issues that puppies have such as play biting, toilet training, chewing, etc. This is also a chance for other owners to get to know each other and there will be some light refreshments available. You are welcome to bring your puppy along to this session if you wish.
Weeks 2 – 4
We encourage all puppies to learn how to interact with people and other dogs correctly and will also include some basic training skills.
Contact Russell
Russell's aim is to make this as much fun and enjoyable as possible for puppies and owners. Family members are welcome to come and interact too. If you put the hard work in now you will reap the rewards later in life.
One-to-One Puppy Training sessions are also available to dog owners in Leicestershire, Northamptonshire, Warwickshire or Derbyshire.
Telephone 07717 763044 or email knightsbaydogtraining@hotmail.com to book on the course.